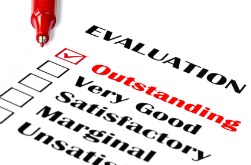 16 Feb

Is your performance management process fit for purpose?
Is it appraisal time in your organisation?
The words 'performance appraisal' all too often strike fear into line managers and employees alike.  It is one of those tasks that is disliked and not always carried out effectively.  In the worst case scenario, performance appraisals end up as a waste of time, or can even harm performance rather than improve it.
Why is this?
Well it is often down to what approach an organisation takes to this task in order to make it more manageable.
Ask yourself the following questions:
Are staff aware of how the performance management cycle should operate?
Do they understand how performance management links to the business strategy?
Are manager's skills and confidence sufficient to carry out the appraisal task?
Do managers and employees work in collaboration to set objectives and the measurement criteria?
Is feedback a key part of the process?
Is there follow-up on a regular basis – not just once a year?
When difficult issues arise are they tackled at the time or swept under the carpet, only to surface again at the appraisal meeting, or not at all.
Dependent on how many of the above questions you answered 'yes' to will be an indicator of whether you are on the right track.
Most managers feel uncomfortable at appraisal time, particularly if they are addressing poor performance or during periods of significant change within an organisation.  Anxiety can set in and in some cases appraisal meetings are cancelled on the pretext of being too busy – how does this look for the employee?
We are all operating in times of uncertainty and often the future is now always clear, so it is important to communicate effectively with employees.
So what does best practice look like?
The best performance management process should incorporate constant feedback and effective performance coaching throughout the year.  It should deal with "what" people are there to achieve and "how" (attitudes, behaviours and approach) required for success.  More emphasis should be placed on the goal-setting process rather than the annual end of year appraisal.  Appraisal forms an important part of performance management but it is only one part of the process.
All managers expected to carry out performance appraisals should have some training.  Ideally this should cover not just "the how to do it" skills but also "the why we do it".  Managers should understand how it fits into the wider strategic process of performance management and how the information and data contributes to the understanding of the resources of the organisation and their value to the business strategy.
Don't believe that because an organisation carries out performance appraisals they have performance management – this is not the case.  Performance management is a holistic process which brings together a number of activities which collectively contribute to the effective management of individuals and teams in order to achieve high levels of organisational performance.
Performance management is strategic in that it is about wider issues and long term goals and it links various aspects of the business, people management, individuals and teams.  Performance appraisals are operational in the short to medium term and concerned only with the individual and their performance and development.
Tip – keep communication lines open!